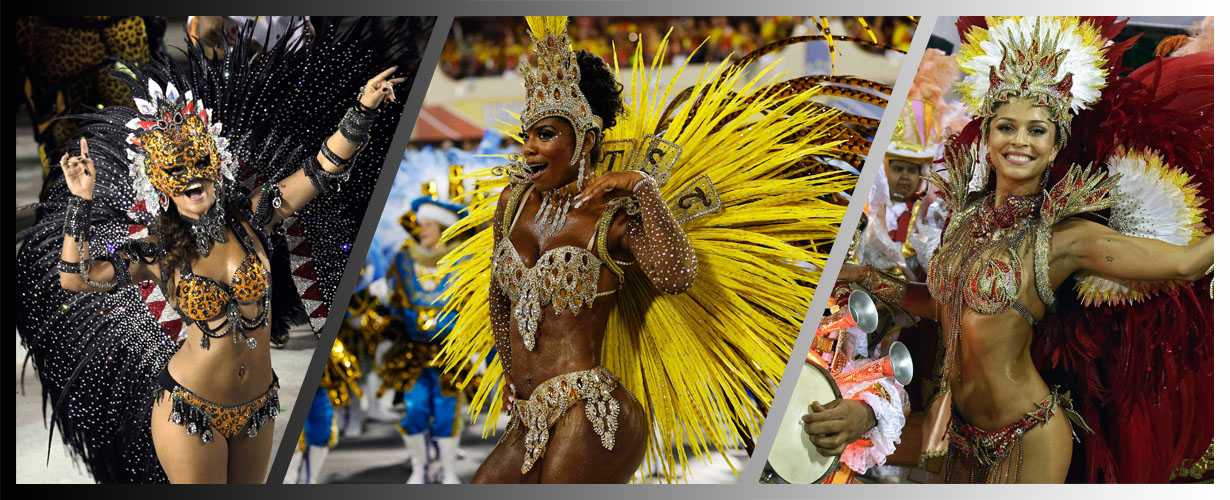 Best Samba Fantasy Carnivals in the World
The international version of Samba, a bright and rhythmical ballroom dance, is what we usually see at dance competitions and championships. This version is considered to be "classic" in the world of ballroom dancing and is offered by many dance schools all over the world, including the Dance For You studio in Dubai. It's considerably different from the original Brazil Samba which is even more fiery, lively, excitable and energetic. Below we will reveal interesting facts, photos and videos about the best, most impressive and spectacular carnival festivals in the world, where Samba is performed.
Samba Dance Styles
Actually there are lots of styles of Samba! The ballroom samba originated from Brazilian Samba at the beginning of the 20th century. However, it differs considerably from its ancestor. Besides, there different styles and variations of Samba inside the Brazil itself.
Samba no pé
Samba no pé is translated literally as "samba in the foot" is one of the most common types of Samba in Brazil. It's a solo dance that is performed at the Brazilian Carnival parades and in other Samba carnivals over the world.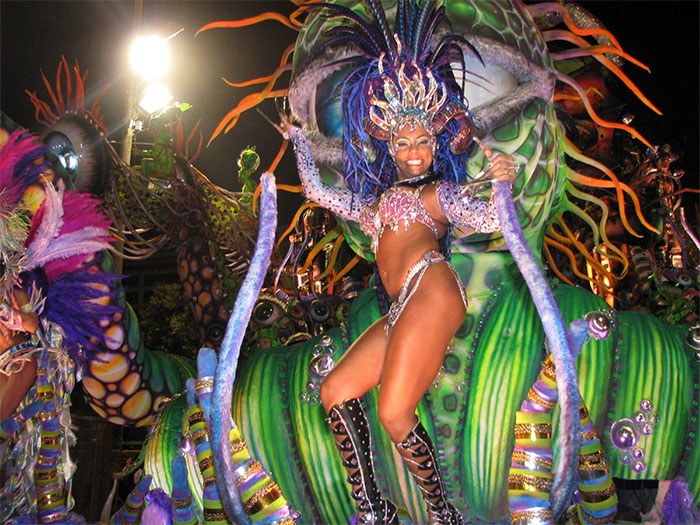 Samba no pé, solo dance that is performed at the Brazilian Carnival parades.
Samba no pé video
Samba de Gafieira
Samba de Gafieira is a partner dance appeared in the 1940s. The name came from a word gafieira – popular urban nightclubs of Rio de Janeiro at that time. Many see this form of Samba as a combination of Waltz and Tango. Several Brazilian dance studios use elements and techniques from these two dances to teach Samba de Gafieira steps and dance routines.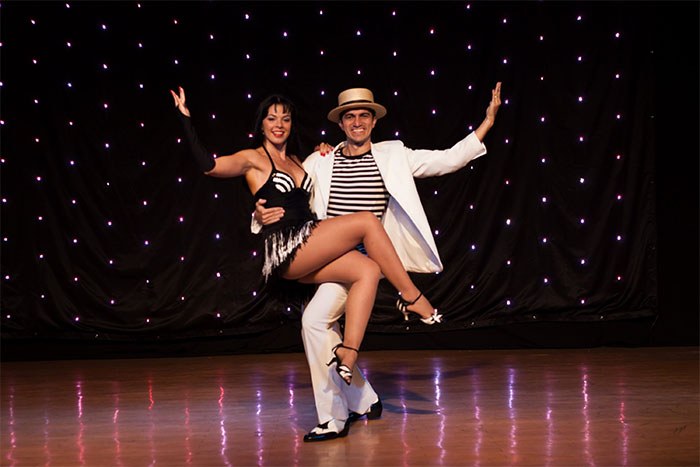 Samba de Gafieira is a partner dance appeared in nightclubs of Rio in 1940s.
Samba de Gafieira video
Samba Pagode
Samba Pagode is another Samba partner dance appeared in late 1970s in the city of São Paulo. It resembles the Samba de Gafieira but has less acrobatic movements and tend to be more intimate. It became a dance style after the appearance of the Pagode – Brazilian style of music which originated in Rio de Janeiro, as a subgenre of Samba music.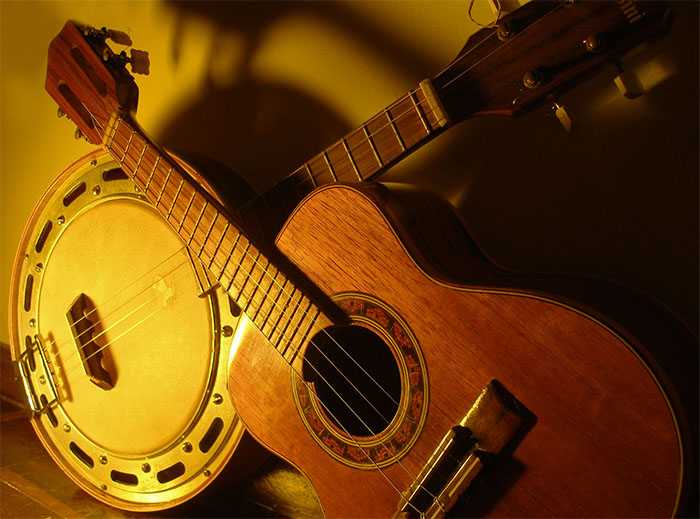 Samba Pagode named after Pagode Brazilian style of music.
Samba Pagode video
Samba Axé
Samba Axé is a solo dance that started in 1992 during the Brazilian Carnival season in Bahia when the Axé rhythm replaced the Lambada. Axé is a popular music genre originated in Salvador, Bahia, Brazil in the 1980s, fusing different Afro-Caribbean genres, such as marcha, reggae, and calypso. Every dance is creative and unique, being completely choreographed, the movements tend to mimic the lyrics. It's a very energetic kind of dance that mixes elements of Samba no pé and aerobics. Several Axé music groups always release a choreography instruction together with every one of their songs. Therefore, Samba Axé is an ever-changing kind of dance with no commitment to maintaining any formal set of steps or routines (there's actually no such a thing as a basic step in Samba Axé).
Samba Axé appeared in Bahia in 1908s. It's a flexible dance with movements that follow the music without predefined moves.
Samba Reggae
Samba Reggae originated from Bahia, it's a mix of reggae beats with Samba drums. Samba Reggae is the second most popular Samba style in Bahia, with followers all over Brazil.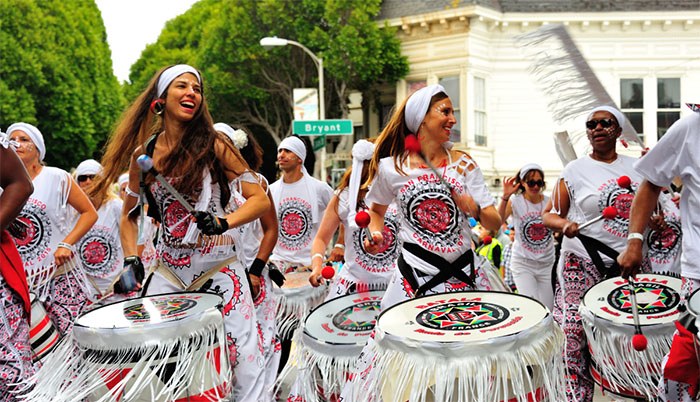 Samba Reggae is a Samba dance under a mix of reggae beats with Samba drums.
Samba Reggae video
Samba rock
Samba-rock is a playful form of the Samba, appeared in 1960s in São Paulo. The musical genre combines the sounds of Brazilian samba, bebop, jazz and soul. It is considered as a Latin nightclub dance.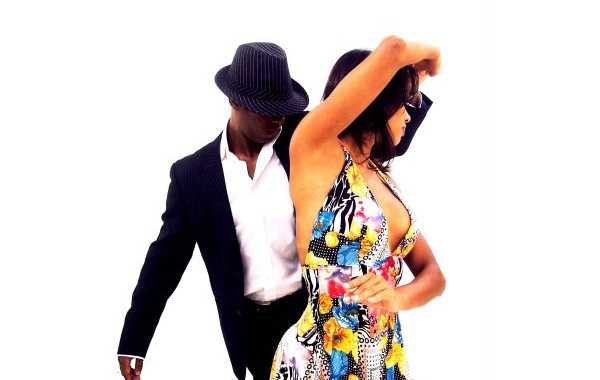 Samba-rock is considered as a Latin partner nightclub dance. The music combines the sounds of Brazilian samba, bebop, jazz and soul.
Samba-Rock video
Samba de roda
Samba de roda is a traditional Afro-Brazilian dance performed originally as informal fun after a Candomblé (dance in honour of the gods) ceremony, using the same percussion instruments used during the religious ceremony. The dance appeared in the state of Bahia, more specifically in the region of Recôncavo in Brazil, during the 17th century. The choreography is often spontaneous and is based on movements of the feet, legs and hips. The factor that frequently draws the attention of most people to the rhythm is the unusually-accented (syncopated) beat. The absent beat is the strongest characteristic of Samba prompting the listener to dance to fill the gap with her/his body movements. This syncopated rhythm is also an indication of Black resistance against cultural assimilation. The Samba of Roda in particular was considered an expression of freedom and identity of the underprivileged and became a means of liberation. Nowadays this dance almost became extinct due to different factors: economic decline, increased poverty, devaluation of this tradition among the younger generation, aging of practitioners and demise of those who made the musical instruments.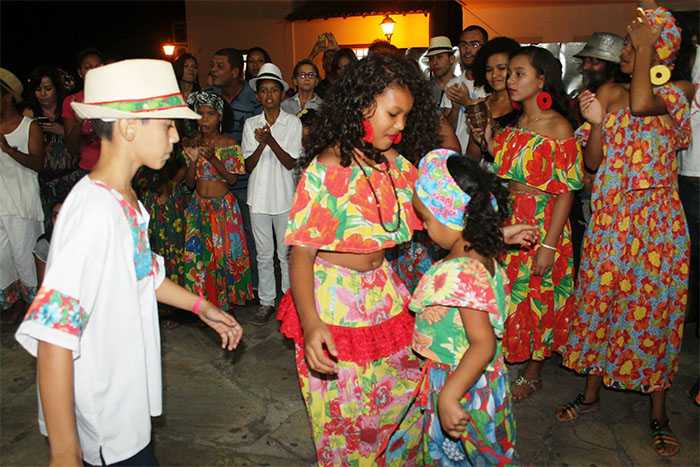 Samba de roda is a traditional Afro-Brazilian dance performed originally as informal fun after a Candomblé (dance in honour of the gods) ceremony.
Samba de Roda video
Samba spread world-wide and many dance schools offer various Samba dance lessons. Usually it's a ballroom Samba, which is a part of International Latin competitive dance program (read more about Ballroom Dances: Types, Classifications, Competitions). However, some dance studios offer Brazilian styles of Samba which are also popular in some places outside Brazil. For example, there is a strong trend of Brazilian Samba culture in Finland.
The Samba Schools (Dance Schools)
The Samba schools are directly related to the carnivals. These organizations are completely different from the standard term "school" or "studio" that we know. Traditionally each school is associated with a particular neighborhood and are more similar to guilds by their structure. Samba schools are huge and include lots of participating members, hold very strong bounds with society, community and everyday life. The aim of Samba school is practicing Samba dance and performing it at various events, especially at the key event – carnival parade in Rio which takes place every year.
Preparation for the parade takes lots of money, time and effort and begins many months before the carnival starts. Apart from dance trainings and sharpening of the dance moves, each school thinks over their overall theme, look and style, music, costumes, etc. Just imagine, each school prepares on average about 3000 performers for the parade! It's really a tough work to organize everything, and prepare properly. Over a dozen of top Samba schools in Rio use a warehouse in a specially designed huge complex called Cidade do Samba (Samba City) to build and house the elaborate floats.
The origins of samba schools are linked to the history of carnival in Rio itself, as well as the creation of the modern samba. The first parades were more exclusive events and used to have white revelers, rather than mostly African-Brazilians like nowadays. The first samba school contests began in 1928 and are considered as the starting point leading to the development of present-day samba schools.
The Carnival Costumes
The dress for the show has bright colors and is very rich for decorations and creative design. The whole style follows minimalistic design and reveals most parts of the body. Usually it consists of a short mini skirt and mini top or even just micro bikini. Feathers are the most popular elements for decorations. They can be used in various ways and can be applied for the skirt, as embellishment for the head, or attached on the back as wings. Spangles and rhinestones are also widely used. The costume is one of the key elements and dress designers try hard and use all their imagination to create a unique special and amazing apparel that will impress the public. Besides, the outfit is also very important because it is one of the elements that is considered for the final score of the performer.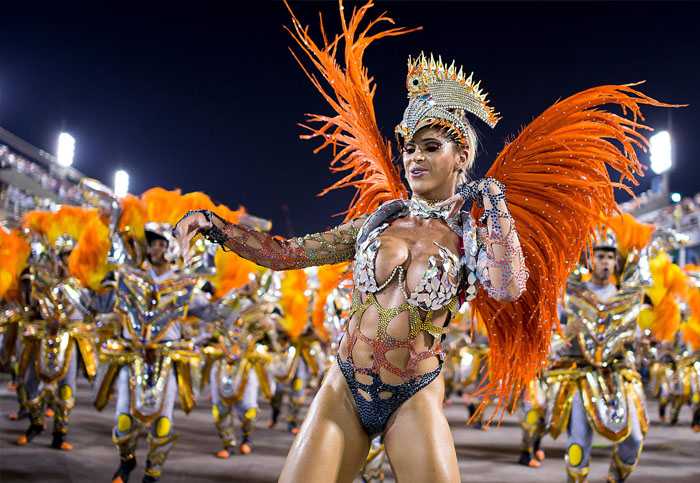 The costumes for the show are open, bright and very creative. Usually it's a kind of bikini, feathers are widely used as decorative elements.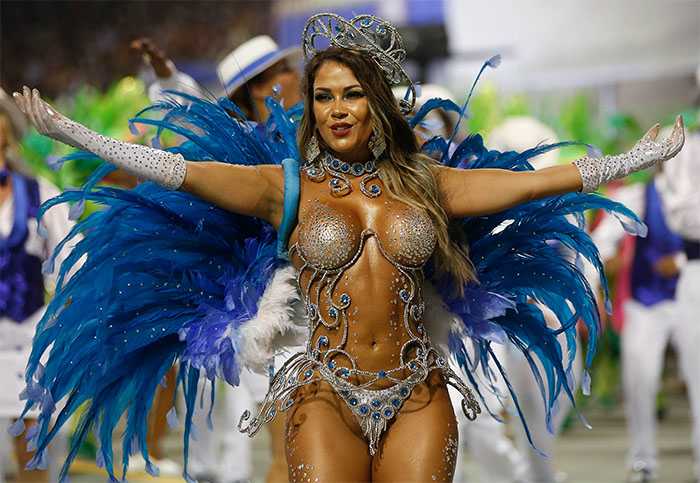 Each dress is unique and can be embellished with spangles, rhinestones or even body paint.
In this battle of costume designers, they sometimes become too enthusiastic and are carried away with their brilliant ideas, so that the resulting costume may look too revealing and unconcealed. Some western media can give a wrong idea of this Carnival by publishing materials with the focus on sexuality or even partial nudity caused by wardrobe malfunction – which may happen during intensive dance moves. Actually it's absolutely not vulgar, even though the costumes can be quite sexy and spicy. Besides, don't forget that it's too hot in Brazil, the average temperature during the Carnival is +27°C (81°F). So, it's logical to prefer bikini for outside performance where no air conditioning is available.
The carnivals affected the international industry of garments and top brands and fashion designers are involved in the process of creating new dress lines specifically for the carnivals. Below are some examples of carnival dresses.
Brazilian Rio Carnival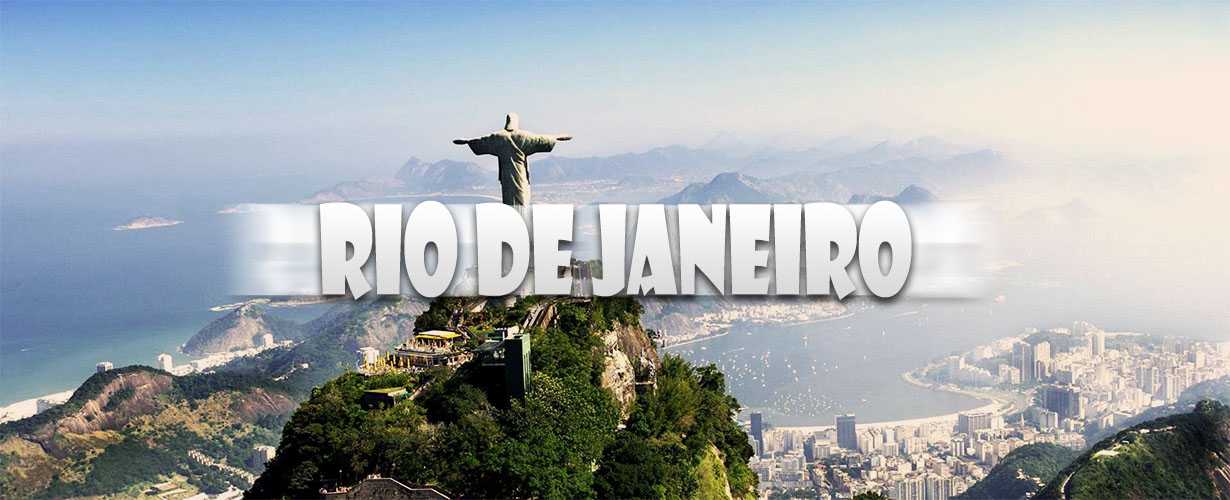 Carnival of Brazil is an annual festival which starts 51 days before Easter and finishes at Ash Wednesday – a day that marks the beginning of Lent in Western Christianity. On certain days of Lent, Roman Catholics and some other Christians traditionally abstained from the consumption of meat and poultry, hence the term "carnival" came from the phrase "carne levare" which means "to remove (literally, raise) meat". The starting date and duration of the Carnival is different each year and usually it takes about 1 week and happens in February – March. The Brazilian Carnival appeared in the 18th century when Portuguese brought their national Carnival to Brazil. Later in the 19th century the Brazilian Carnival assimilated elements from Italian and French culture, and becomes more popular and gradually evolves to what we can see today.
Actually there are several annual carnivals in Brazil. The largest one takes place in city Rio de Janeiro or simply Rio, the second largest city by the number of citizens (about 6.5 million) in Brazil after São Paulo (about 12 million). The city is also well-known because the recent Summer Olympic Games 2016 hosted there (read more about Ballroom Dancing as Olympic Games Sport).
The Carnival is a great show and competition of the Samba dance schools, it is a major economic and media event which is screened live to millions across South America. Only in Rio it draws about 5 million people, with many foreigners. Indeed, if you like tourism, this event is worth visiting! Samba schools in Rio de Janeiro are today the most famous ones and produce the most spectacular parades, or as it is often said the "greatest show on Earth".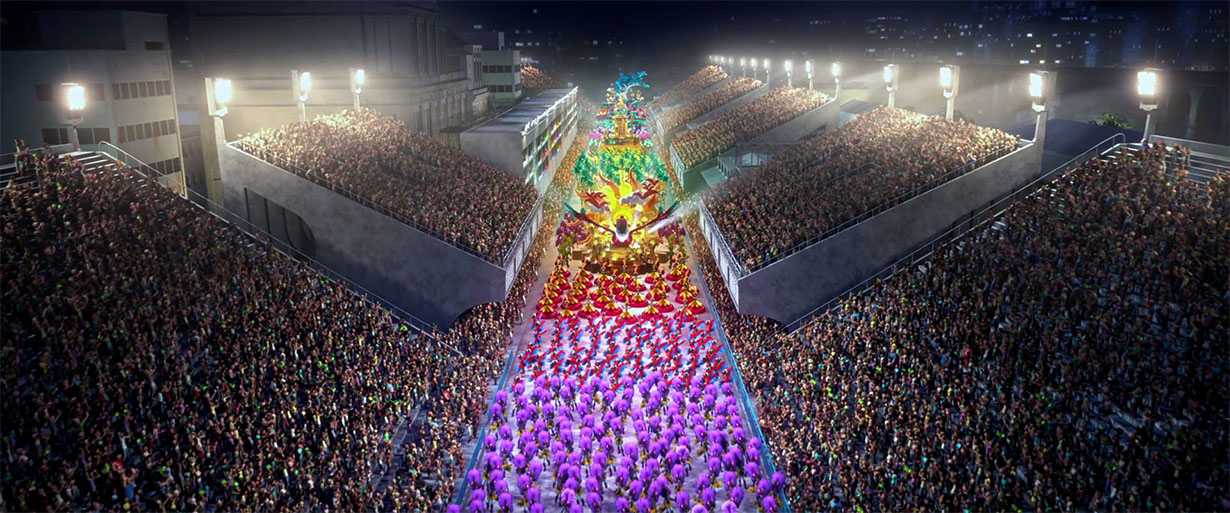 Sambadrome in Rio, an area with a street in the center, where the official Carnival parade takes place.
The Carnival in Rio takes place at Sambadrome – a special parade area built for this event. It contains a part of a street 800 meters long with places for public on both sides of it. The parade goes on the street from the starting point (entrance of the Sambadrome) to its end. Each Samba dance school has approximately 90 minutes for their parade and performance which includes thousands of member dancers, drum section, and a number of floats. All performances of each school are graded by a jury, and a total grade is calculated in the end of the Carnival where only one school is declared the winner. After that the Parade of Champions is held featuring the five winning Samba schools in the Special Group category.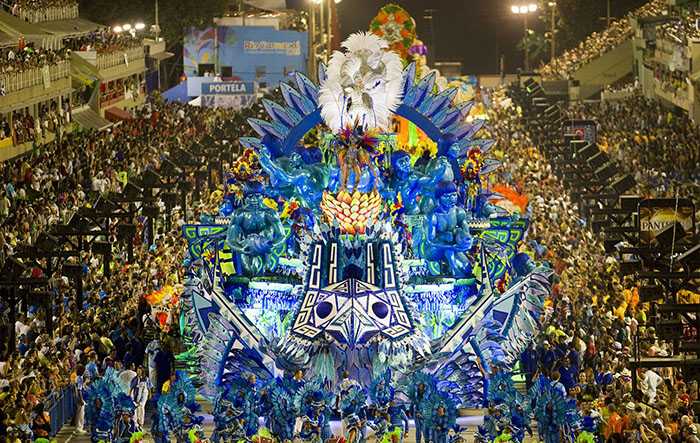 The floats are huge beautiful platforms that make the show more spectacular.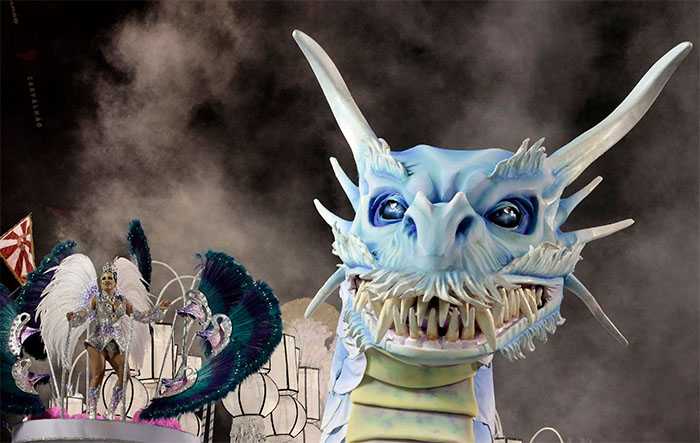 The platform are also used as a stage for the Samba performers.
Besides, there's also a Street Carnival in Rio. While the Sambadrome can attend only a limited number of audience and the show is performed only by registered Samba schools, the Carnival goes into the streets where anyone is allowed to participate. Elegance and extravagance are usually left behind, but music and dancing are still extremely common.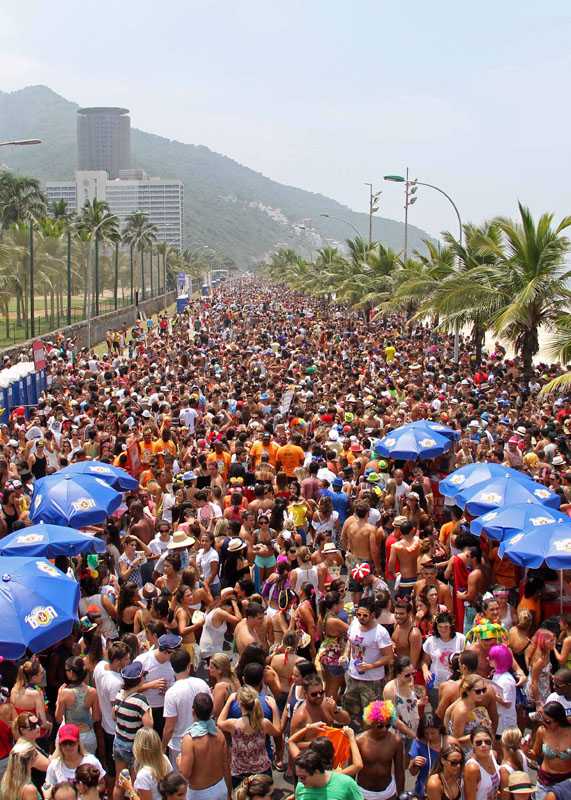 About 5 million people attend the Carnival, and festival also takes place on the streets, ourside the Sambadrome.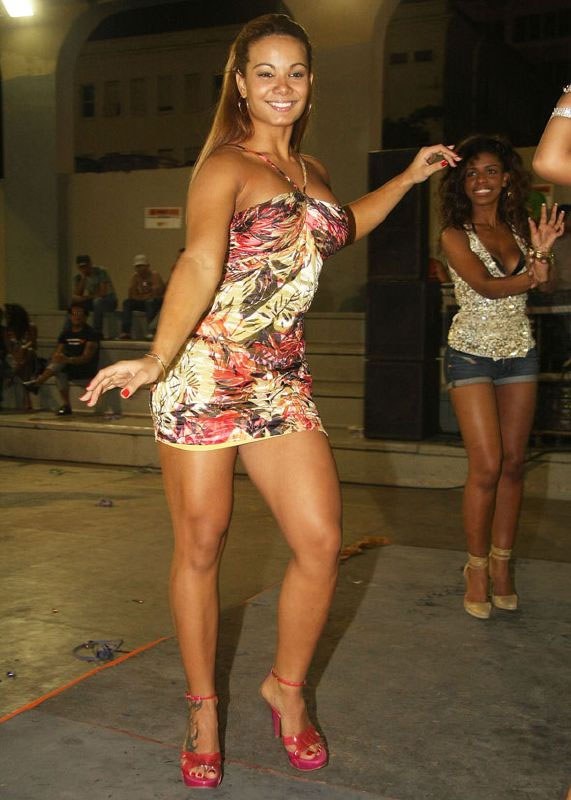 Only Samba schools are allowed to participate at the official parade in Sambadrome, while on the streets everybody can dance.
Video of Carnival in Rio 2011
Video of Carnival in Rio 2016
Brazilian São Paulo Carnival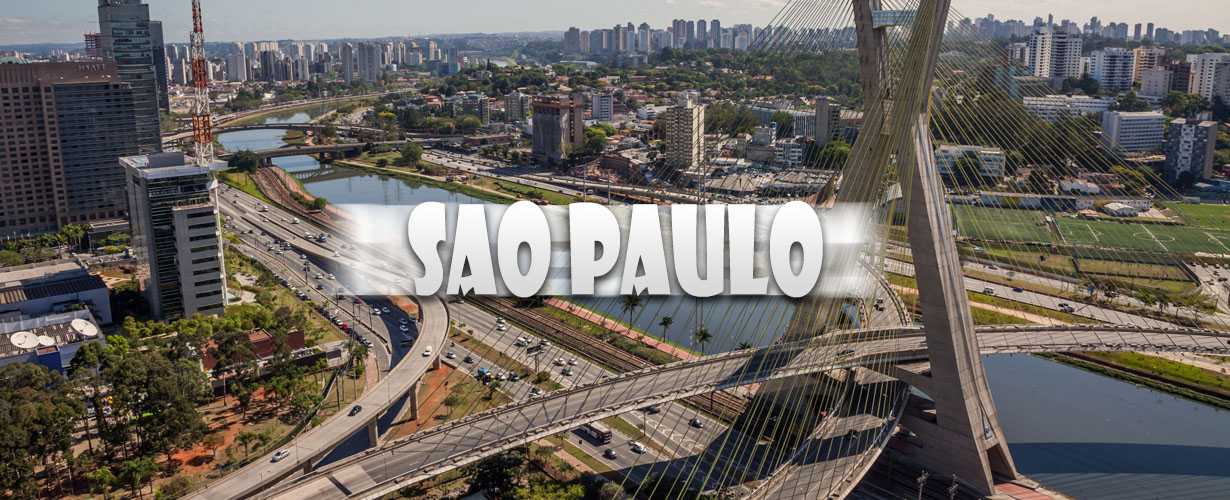 São Paulo is the largest city of Brazil. However, the Carnival of Sao Paulo loses to the Rio Carnival. The reason is that the first Samba schools appeared in Rio and therefore they are stronger and have more opportunities for creating an amazing show. The format of Sao Paulo Carnival is the same as in Rio, additionally it has focus on allegorical cars – huge vehicles with special themed decorations. The event takes place in Anhembi Sambadrome built in 1991. The Sambadrome is 530 meters long and 14 meters wide and can hold up to 30,000 spectators.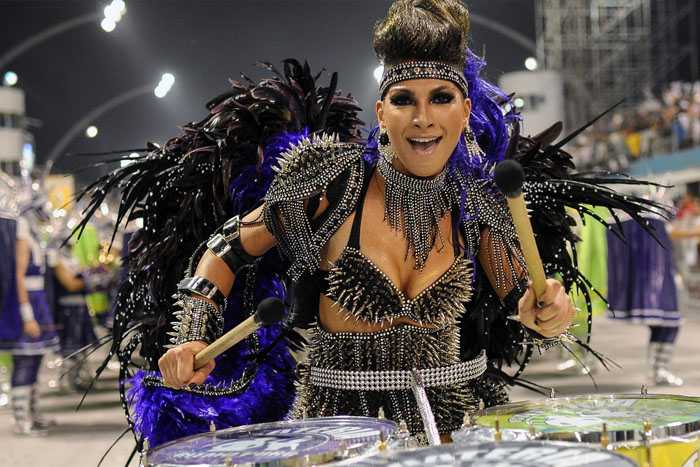 Carnival in Sao Paulo has the same format like in Rio and looks almost the same.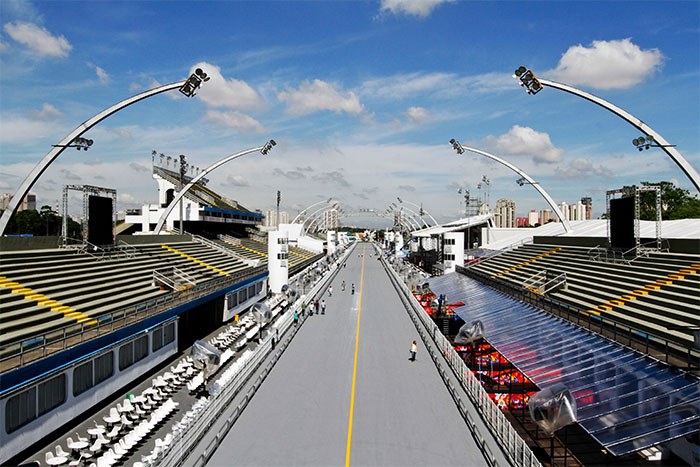 The official carnival in Sao Paulo takes place at Anhembi Sambadrome which is a little smaller than in Rio.
Video of Carnival in Sao Paulo, 2013
Video of Carnival in Sao Paulo, 2016
Argentina Carnival – El Carnaval del País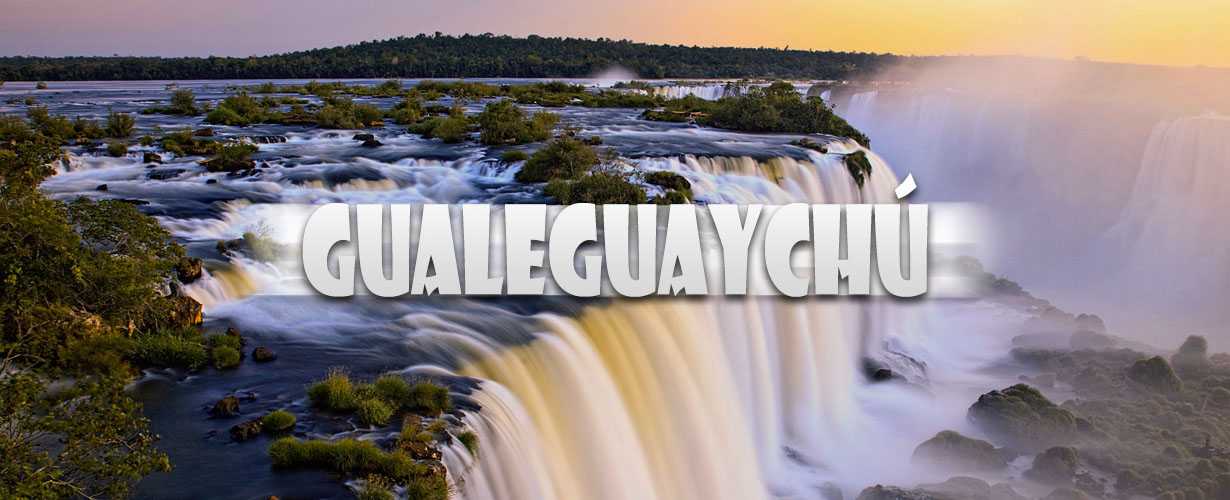 The "El Carnaval del País" is translated as Carnival of the Country and is the largest open-air show in Argentina and is considered to be one of the best carnivals in the world after Rio de Janeiro and Venice (not a Samba Carnival). It takes place every year on Saturdays in January, February and the first Saturday of March in a local Sambadrome of Gualeguaychú city, the same structure as in Rio, but it's more compact: the street section is 500 meters long and 10 meters wide. The building was constructed in 1997 and has about 30,000 places. Many people arrive to see this event from Buenos Aires (capital of Argentina), Santa Fe and the rest of the country, besides this show is also popular among guests from foreign countries.
Video of Gualeguaychú Carnival, 2011
Video of Gualeguaychú Carnival, 2012
Helsinki Samba Carnaval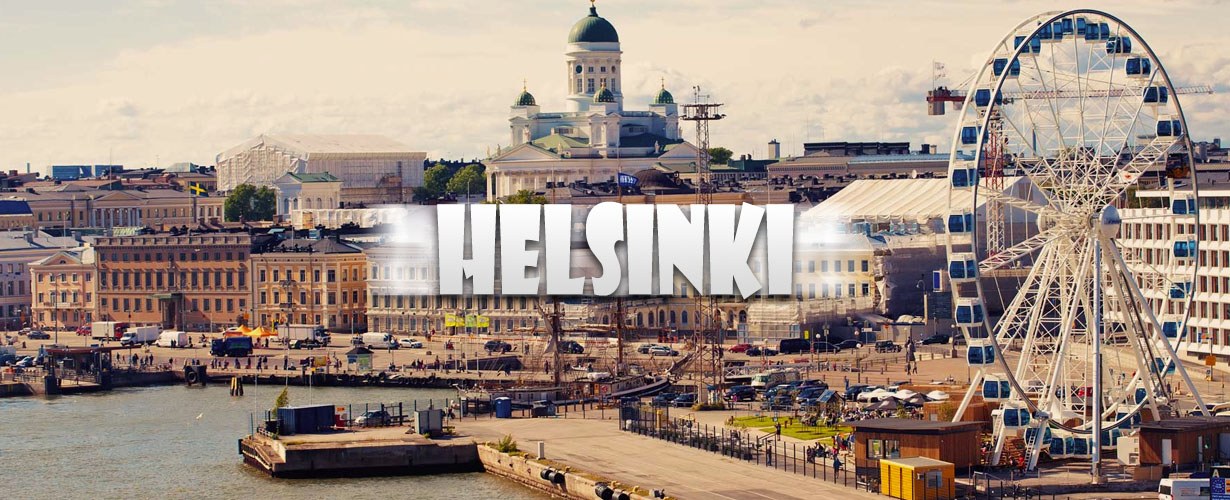 Helsinki, the capital of Finland, is a place where Brazilian Samba culture has been kindly accepted. Besides of dance school that offer Brazilian Samba dance classes, Helsinki is famous for The Helsinki Samba Carnaval, annual event since 1991. It is organized in the same fashion as in Rio, except the difference that it takes place in June, while original Rio Carnival is in February. The explanation is simple and is related with the weather conditions: Finland is one of the northern countries of European Union, and it's too cold in February – average temperature is -6°C (22°F). The style of the Carnival, the dress and dances are similar to what you can see in Rio, but there are also some innovations influenced by local culture and traditions which are additionally appended to the event making it unique. The event gathers about 20 – 30 thousands of people and it's absolutely free! And about 1000 performers participate in the show. It's really like a Rio Carnival, but on a smaller scale.
There are also some supplementary events, such as Noite das Fantasias – Fantasy Samba Night. It gives opportunity to see the most spectacular carnival costumes in advance, while Samba schools of Finland try to win in the Fantasy Costume competition.
Video of Helsinki Samba Carnival, 2012
Video of Helsinki Samba Carnival, 2015
Carnival of Madeira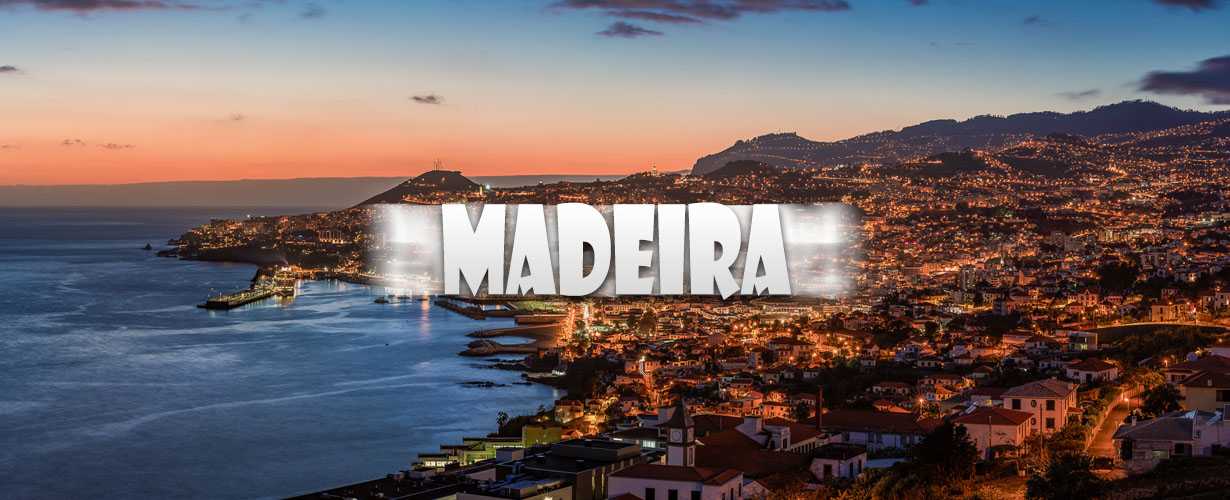 Madeira is a Portuguese archipelago situated in the north Atlantic Ocean, southwest of Portugal. Funchal, the capital of Madeira, is a city where the annual Madeira Carnival takes place. This event considers itself to be known as one of the best in Europe. The style and format of the show is similar to what you can see in Rio. There are several thousands of performers from different Samba groups.
Video of Madeira Samba Carnival, 2015
Video of Madeira Samba Carnival, 2016
Asakusa Samba Carnival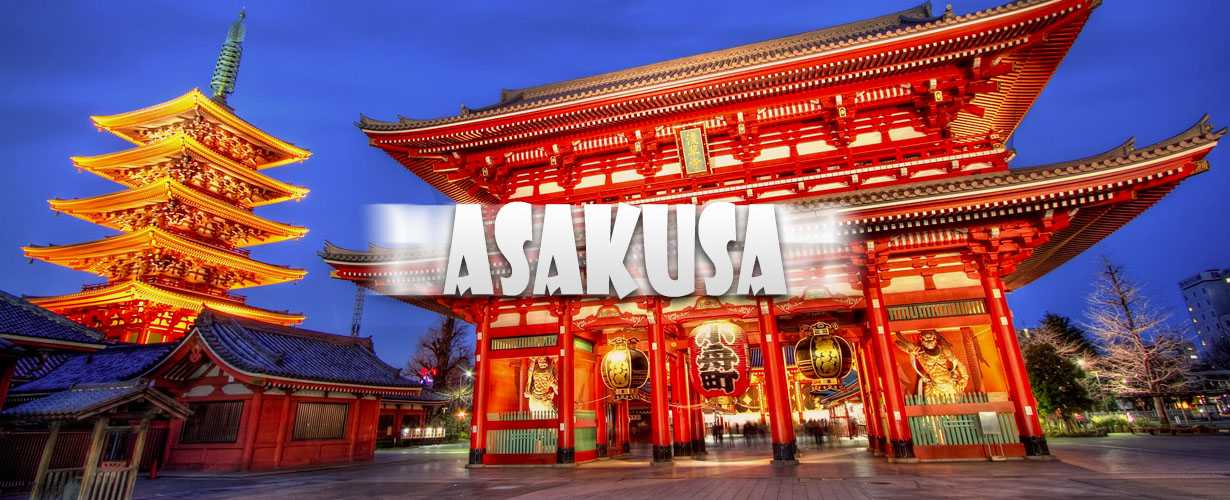 It may look surprising to see Brazilian culture in Japan, a country that respects and preserves its own traditions. Some people explain it by the fact that the largest Japanese community outside of Japan is located in Brazil, so it led to cultural influence. The Japanese Samba Carnival appeared in 1981 is Asakura, district in Taitō, Tokyo. Latest events gather over half a million of spectators and 4500 performers. The format of the show is similar to Rio: the performances are made by members of Samba schools that compete between each other to win the title of the best school.
Samba was little-known in Japan before the launch of the festival, but the carnival is now one of Tokyo's best known events. Most of the performers are young women, but there are kids, men and older performers too, and some of the samba groups are from high schools or universities. Every year, the winning team from the Rio Carnival is invited to Asakusa, and takes part in the parade alongside the local teams.
Video of Asakusa Samba Carnival, 2010
Video of Asakusa Samba Carnival, 2014
Bremen Carnival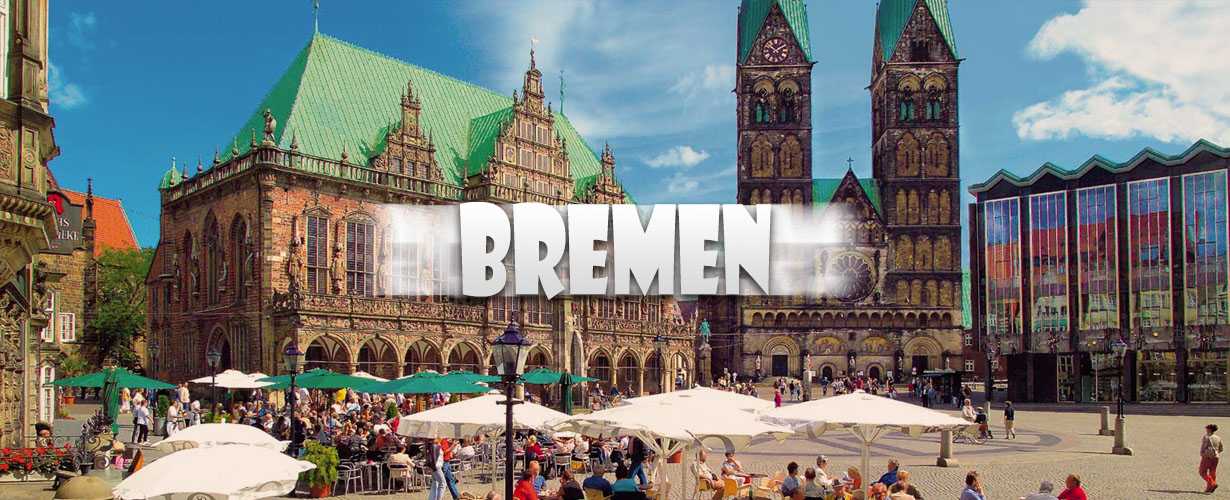 Germany's biggest samba carnival takes place in Bremen. About 1,400 performers from Samba groups all over Germany and its neighboring countries bring carnival spirit to Bremen. Every year up to 35000 spectators gather along the streets to watch this show. Each year the organizers announce a special topic which is an official theme of the carnival and all performers must follow this theme and prepare their performances accordingly. The in February in Bremen is quite cold and the temperature is about +2°C (36°F). Of course it had a great impact on the show. You will barely see someone in bikini dancing hot Samba music. Everybody is wearing warm jackets and coats. So, this show is definitely different from what you may see in Brazil. However, it has its own charm. People wear different masks, use face paint, various fancy clothes and costumes. If you want to try a special taste of Samba Carnival, then Bremen is the place you should visit.
Video of Bremen Samba Carnival, 2015
Video of Bremen Samba Carnival, 2016
Coburg Carnival
This carnival takes place in Coburg, Germany, every year on the second weekend in July. Coburg has more advantageous weather conditions in comparison with Bremen, where the carnival takes place while it's too cold. Probably it's the reason why Coburg is more popular and is entitled as "Samba city" of Germany. The parade gathers about 200,000 visitors and 3,000 dancers and is one of the biggest Samba Festival outside Brazil today. In 2014, the Festival was pleased to be awarded the title "Best Samba event outside Brazil", from the Edison Carneiro Prize.
Video of Coburg Samba Carnival, 2015
Video of Coburg Samba Carnival, 2016
How to Learn Samba?
If you got inspired by the carnival photos and videos, then you probably want to know how to learn Samba? Our "Dance For You" studio in Dubai offers a wide range of dance lessons, including Samba. The primary focus of our dance school is ballroom dancing, so it's not surprise that we offer the ballroom style of Samba. This style is quite different from the Brazilian Samba described in the article above, however, it's more popular in UAE, Europe and USA. Therefore, it's not a problem to find a partner or a club to dance. Besides, the ballroom style of Samba is also very beautiful. It's the same style that you may see on TV shows (such as Dancing with the Stars and others) and it is acknowledged internationally and included into the Latin program of dance competitions and championships.
Our professional dance teachers are available for individual and group dance lessons, and you are may join us alone or come with your partner. If you don't have a partner, it's not a problem to start dancing! Just contact us and we will tell you about our special offers for newbies, prices and other related information.
Let's dance Samba together and see you at the dance floor!
Other articles you may like: